Image from www.riverisland.com
Autumn/Winter is fastly approaching (although in England, the weather is atrocious so it feels like autumn and wintery weather is a constant!) and now it's time to look ahead into what pieces are going to be staples in your wardrobe to keep you on trend for the end of 2012!
Firstly, a trend that has been seen on many catwalk's is baroque. It is basically a very ornate looking, busy print. In regards to the high street, a lot of pieces in River Island feature this design, and of course, will be super affordable!
To the right is this first piece. It's a black and beige cardigan, showcasing the baroque design. I must admit, it's very busy; I would be definitiely stepping out of my comfort zone if I rocked this! But I am definitely a fan of this and it looks very comfy and warm, which is ideal in the cold, winter months that are approaching! It's reasonably priced at £40 and I think this could go well with a lot. Maybe a cute black dress, jeans, or even wet look leggings? If you're really daring, you could pair it with some similar style baroque leggings/trousers!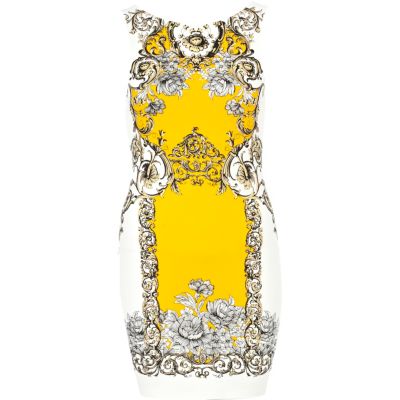 Image from www.riverisland.com
This second piece, also from River Island, is a lovely bright summer dress. I really like the baroque design on this because it will really highlight you're curves (even if you're not curvy, it will give you curves!). I do like the yellow, but I would like to see it in other colours. I think a nice coral pink would be good, turquoise also! I think you could really dress this up, maybe for a date? By pairing it with simple black court heels and a black leather jacket, it will really allow the dress to 'pop'! In the winter, as it does get colder, you could wear this with black tights, although I haven't seen this dress in person so I would not be able to comment on whether the tights would show through. It sales at a very reasonable price of £25 and you'll definitely be on trend with this, plus looking very glamourous!
Moving on to bottoms!
I've spotted these really cool baroque leggings from www.missguided.com.
Image from www.missguided.com
I think these are really cool and would really brighten up an already basic outfit. You could pair these with a simple plain black tank top. Alternatively, like the model in the picture, you could pair it with a bright baroque jumper. I think personally this would make the outfit a bit garish and I wouldn't wear it. Having said that, you may look at the outfit and think "Wow! I would so wear that!", which is great! I guess I just don't have the guts for that! :) If you wanted to wear these on a night out, platform heels would look great with these. Even for a casual look, you could just pair it with ankle boots/brogues/pumps!
These are available online for 30% off the original price which makes them £9.09! Bargain, I must say! They also come in pink if you're not a fan of the blue.
Image from www.missguided.com
For something even more daring, check these leggings out! Also from missguided.com retailing for £6.50 (with an amazing 50% off!) Now, it seems very hypocritical of me, but I would wear these rather than the previous pair, despite being even more bright and garish! I think it's just that I'd prefer to have a piece that I can dress with many different things and colours... Whereas the previous pair I would find I could only wear with black. Nevertheless, I really like these!
So, after seeing these products, would you be more willing to buy a piece of baroque? I think I would just because with the right design, it can flatter you very well; just like the River Island dress. With the leggings, it just gives a boost to your wardrobe and a great alternative to jeans or plain black leggings!
Let me know what you think and stay tuned for more fashion trends in Autumn/Winter 2012!
xoxo