The classic leather jacket to the edgy leather look leggings can give the rock chic look to any outfit and there's an eclectic range out there for us to choose from. Simple!
I'm constantly on the search for the perfect leather jacket (I haven't found it yet!) but there are so many out there in all different styles to choose from. If you have the money and want to invest, a real leather jacket would be ideal, preferably in black simply because it will go with every outfit! However, there are faux leather versions available too!
Image from www.asos.com
Starting off with the most expensive piece I've found. This leather and sheepskin jacket from a brand called Muubaa, sold on ASOS.com really caught my eye because it's different. I like the draping and the large lapels. I really like that the sheepskin lining is inside the entire jacket, not just the lapels. However, for £225, I would expect them too! I like the sleeves, they are a much better alternative to the fabric elasticated ones you see on a lot of other leather jackets. I'm not a fan of those because they cut off my hands and really cling to my wrists, which I find very uncomfortable. For extra warmth, I think you could throw on a chunky knit scarf over the top along with the sheepskin lapels which could make the look very comfy! Pair with some simple jeans and you've got a lovely casual outfit whilst keeping warm at the same time.
The only thing that would put me off is the price. It originally retailed at £430 so you're making a saving of (if my maths is correct) £205! This makes the jacket an investment piece. I personally wouldn't buy it because I do not have the money and even if I did, I would feel very hesitant to lay down this kind of money.
Image from www.asos.com
Image from www.asos.com
Here is a slightly more affordable leather jacket, also from ASOS in their collection. It retails at a discounted price of £67.50 from £135. What is different about this jacket is a couple of things. Firstly, there are no lapels, very different to the previous jacket. This jacket also has little pockets on the side; which could be quite useful but I don't think I could fit my keys or iPhone in them. One particular difference of this jacket is the texture. It features a laser cut design (shown in the close-up on the right) which I really like because it adds some femininity to the piece. I like the structured shoulders and three-quarter length sleeves which just smarten up the piece.
I like the outfit that the model is wearing with the jacket. It shows a good contrast between leather and a girly, baby pink, floaty top and jeans. This outfit would be perfect for going out for dinner; simply pair with some heels, or even travelling; throw on some brogues or even Converse for the comfort factor.
Moving onto bottoms. I remember when I was younger, my mum bought me some leather trousers (I vaguely recall she had some too; maybe she wanted to match!) and when I think back, I do wonder "How did I not sweat in those?". I wouldn't buy leather trousers now, simply because I know it would take a fair few hours just to get them on! Also, the sweat factor isn't appealing to me!
Recently seeing these 'leather look' leggings, I thought this could be a great compromise because they'll be thinner and easier to walk in. You can find these type of leggings EVERYWHERE! Topshop, River Island, ASOS, Missguided, New Look, H&M, Primark etc etc etc! One piece of advice would be, be prepared to pay a little more for these just because you want them to last a long while and when it comes to washing them, you don't want the leather to crack. Having said that, I would've thought most of these leggings would have to hand washed, which makes more sense.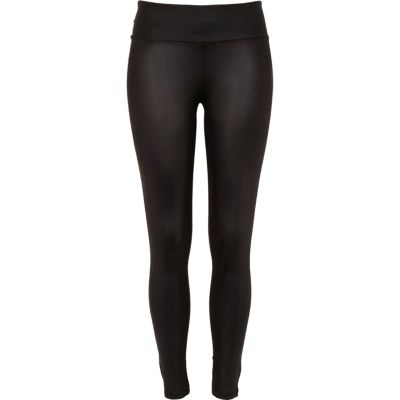 Image from www.riverisland.com
I found this pair from River Island that retail for £18 which is very reasonable. These are very simple and are a great alternative to plain fabric leggings. I do like the wider waistband at the top, I guess it could work as a tummy shrinker possibly, which is always a bonus for me because I don't particularly want to wear magic knickers all the time! :)
For the same price, you could get these 'Ultra Wet Look Leggings' from ASOS. They are very shiny and I do like them. However, for some reason, they make me think of the brightly coloured 80's inspired leggings you see in fancy dress shops. All I can say is thank god they don't come in these kind of colours!
Image from www.asos.com
Image from Google Images
You really would stand out in those, wouldn't you? ;)
Moving onto shoes and accessories! As the colder weather approaches, you'll put away your flip flops and dig out your boots. I found these Ted Baker 'Bronko Leather' flat boots from ASOS but I think they also retail on the actual Ted Baker website too.
Image from www.asos.com
These boots are very simple but I like the gold buckle on the ankle. I think it makes the boot look more Western; almost riding boot? I like the length of these and they would look perfect with any outfit, as well as keeping your feet warm.
For a more glamourous shoe, I found these leather heels from Ravel on ASOS. They're called Geraldine and they have a laser cut detailing on the front with a slingback strap and peeptoe. They come in a variety of colours which also vary in price. These ones are £50 from RRP £80.
Image from www.asos.com
I think you could pair these with some denim jeans, a floaty top and jacket for a cute evening outfit. You could also pair it with a pencil skirt and blouse. I like the zip detail at the front, which makes the shoe more edgy because of the femininity of the laser cut.
If you're looking for a more everyday casual shoe, I found these flat pumps from Oasis on ASOS. Again, like the Ted Baker boots, I believe these are sold on the main Oasis website too. These retail for £38 and they feature a beige snakeskin print with a gold toe cap. I think the snakeskin gives the shoe an edge and the toe cap is just a nice finish.
Image from www.asos.com
Image from www.asos.com
These could be paired with some basic leggings or jeans and a top and if you can find one, a light coloured leather jacket or even a black jacket (leather or not) would work nicely too! Another piece of advice; be careful not to scuff the toe cap. I wonder how durable the material is as it may be prone to scuffing which would spoil the shoe. I think general care for these shoes would be enough to make sure they last and you get your money's worth.
Okay, I must admit. I LOVE this belt. I'm very tempted to buy it for myself! I love the modern metal plating on the most part of the belt with the traditional buckle at the front. This would make a simple black outfit really stand out. I imagine this would look good with dark jeans too! It reminds me of a Moschino belt that I so badly want need in my life, which unfortunately costs £209 :( Maybe a Christmas present? I don't think so, somehow. This belt retails for an ever so slightly cheaper £18 (BARGAIN). I think it is perfect for this season because the metal plating and traditional buckle is quite masculine and androgyny is very on trend this season too!
Image from www.asos.com
Now handbags. Like most girls, I am OBSESSED with handbags. I feel the need to have one in every colour, of every kind! Clutch, Tote, Shopper etc etc!
I found this bag, again on ASOS, by a brand called Amused by Ameko. It reminds me of the Rebecca Minkoff Mini M.A.C. Clutches. Everything about this bag, I love. I like the ornate laser cut detailing on the fold over part which adds some femininity to the bag, but was mans this up is the little skull cut out in the middle. This adds an edge to the bag. It has two straps; an over the shoulder and a grab handle. It retails at a pricey £125... So maybe could be a Christmas or birthday present? I love the lining too; it features a floral skull design. I like it when bags have lining that is tailored to the exterior just because it makes the bag look more expensive and better quality. All in all, this bag is a delightful mix of grunge and girly.
Image from www.asos.com
Image from www.asos.com
So, I hope I have given you some ideas about how to wear leather this season! I chose to pick a range of expensive and affordable pieces in case you have a birthday coming up and would like some ideas on presents that family or friends could get for you whilst also being on trend!
What do you think of leather? How do you like to wear it best; clothing or accessories?
xoxo