a bit too much.
However, I went shopping with a couple of friends a few weeks ago and I spotted a really lovely peplum top from Primark and my friend bought it and encouraged me to get one as well! I'm so glad I did buy it because I love it and it's so easy to wear. I can pair it with jeggings, wet look leggings and even denim shorts when I'm on holiday. I am very tempted to buy the coral/pink colour from Primark too, it is a bargain at £8!
This peplum top from River Island is very similar to mine but just with a floral print. I really like it and it would actually be very wearable! You could wear it with jeggings, white shorts or wet look leggings for a casual look. If you want to smarten it up, maybe for work, a plain black pencil skirt and some simple black heels would look really professional but still young! It's reasonably priced at £25 and could be a real staple this autumn because it's still nice to look colourful even if the weather is pants!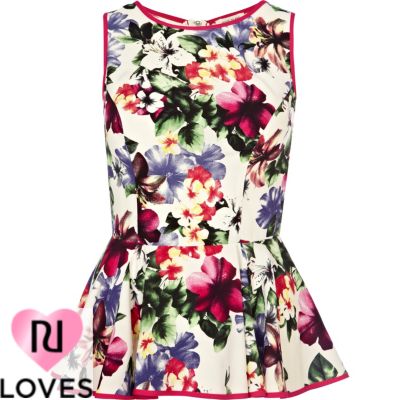 Image from www.riverisland.com
River Island have a lot of peplums on sale in the form of tops, skirts and dresses, but this was my favourite!
Next up is a peplum dress from Lipsy! I never really shop in Lipsy simply because I don't have anything from there and I've never been bought anything from there to spark interest (apart from a bath gift set my friend got me for my birthday!) However, I do really like this dress and I know Lipsy are somewhat known for their dresses.
Image from www.lipsy.com
It retails for £45 which I think is very reasonable for this kind of dress! I really like the slightly longer, almost cap sleeves because I find completely sleeveless dresses can almost cut off your arms and emphasise them. This is something I'm not a fan of simply because my arms are not one of my best features, so I think this sleeve would flatter them better. The peplum isn't too dramatic which is good. If it were much bigger, it could look a little false, as though it's just been stuck onto the dress with no kind of thought to how it would look altogether. The length is OK- probably not suitable for the office if you were looking for a peplum dress for work, but I think it is good for a night out.
One feature of this dress that I do like is the fabric. Up close, it has a textured look to the fabric which I think makes the dress look a better quality and it's also just a good change from the plain white fabric that many peplum dresses have.
I like the nude shoes paired with it in the picture. To be honest, this dress is such a neutral colour, that you could pair it with any colour of shoe. Personally, I would have to wear this dress with a tan. I'm naturally fair skinned and I would be conscious that I would almost blend in with the dress. A tan would really set this dress off! I actually did see a young woman wearing a dress similar to this although I cannot remember if hers was strapless or not. Nevertheless, it did look really nice on her!
Finally, peplum skirts! I really like these because they, like peplum tops, can make an outfit that touch more glamourous and interesting! There are loads out there in the shops so you'll be spoilt for choice, but here are a couple of my favourites!
This brown peplum skirt from Topshop is really nice I think because it's a neutral tone as opposed to a black peplum, which could sometimes be a little harsh. This would look good with a tan or beige tank top and some cute tan heels. Alternatly, you could pair it with a bright pink tank top and matching heels for a night out where you need to dress up this neutral colour!
Image from www.topshop.com
It's also a suitable length if you're looking for something for the office. I think the brown will relax your work wardrobe (which sometimes could become very monochrome and in need of a lift) but the peplum and the right top or blouse could really set this off and make you look very professional but still on trend!
Reasonably priced at £34, this skirt could definitely become a staple in your wardrobe. It also comes in a bright baby pink, if you would prefer something a bit brighter although the brown is perfect for autumn/winter!
If you're looking for something a bit cheaper, www.missguided.com offer a whole host of colourful peplum skirts ranging from £14.99 to £19.99!
Image from www.missguided.com
Looking at the collection, I think the coral colour is my favourite because the hot pink is probably a bit too bright for autumn and is more suitable for summer.
So, what do you think of peplums? Have you bought anything with a peplum recently?
xoxo